Olympic Quality Trampolines, Awesome Lessons, Lots of Fun
Be sure to check us out on Facebook & Instagram for any updates & promos!  Also, take a look at our calendar at the bottom of the page for open/play gym times!
Trampoline is great fun for ALL ages. Try out a new sport!
Birthday parties are booking up! Give us a call to book yours today! 508-980-1987
Want to have an event or field trip here? Email our event coordinator at sarah.cutroni@gmail.com.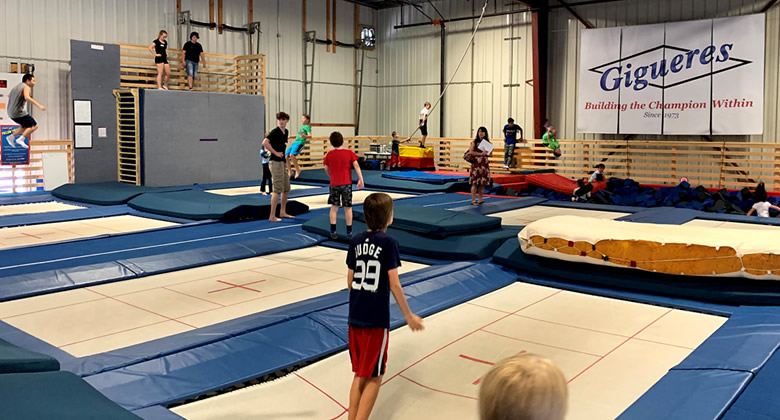 Our Staff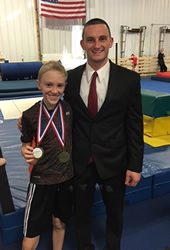 Our specialized staff teach people of ALL ability levels on the trampoline. The program is based on the competitive trampoline system, which teaches everything from the very basics to Olympic level trampoline skills. Our head coach, Sean Kennedy, has personally been through the system and was a member of the United States National Trampoline Team. Sean works closely with all of the Giguere's staff to provide the best trampoline lessons in the business!
Sean Kennedy – Sean is the trampoline director and head coach of our trampoline team. Sean was a member of the United Stated National trampoline team and competed in the Olympic trials. Sean works with all levels of trampoline athletes. He is a current Guinness world record holder for highest team bounce. Sean also performs with Flippenout Productions based in Holland Ma., which has performed all over the world for millions of people. The group has traveled as far as Hong Kong.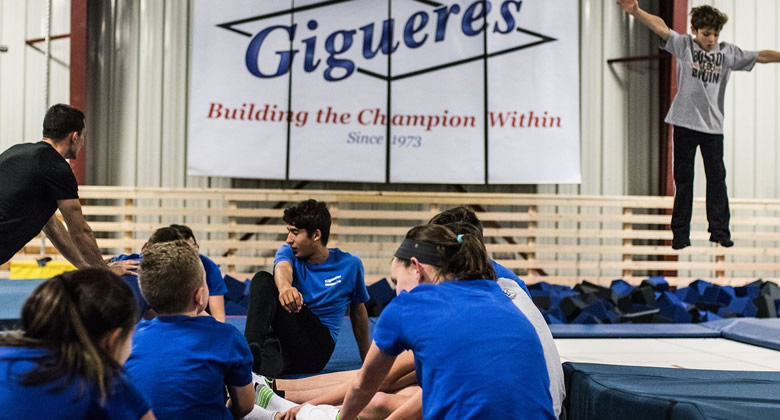 Trampoline Team
The trampoline team is for those athletes who want to push themselves on a daily basis. Team focuses on developing complex skills and routines along with strength training and flexibility in order for the athletes to achieve the best results possible. We are competitive at all levels including Elite. Team competes at regional and national levels.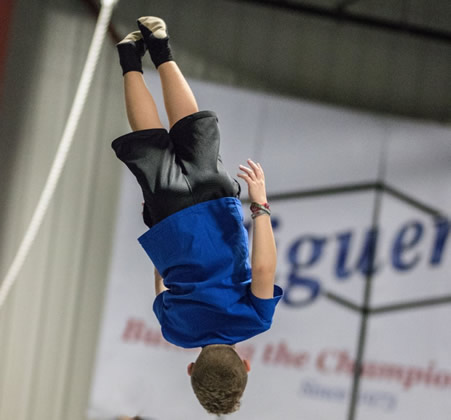 Yearly Fees
Membership Fee (per child)
$40 Family Membership Fee $70
Open Gyms Fees
Preschool $10
School Age/Adult $15
Monthly Class Fees
30 Minute Little Jumper Class $70
1 Hour Class $95
1.5 Hour Class $120
2 Hour Class $145
Giguere's has been a staple for children's activities for over 45 years. Our trampoline facility contains 10 Olympic quality trampolines, a foam pit, and overhead spotting belts as well as a double mini trampoline and rod floor. It's the perfect place for your child's next birthday party!
Giguere's Trampoline is a top choice for local camps, groups, organizations, and schools to host events, field trips, parties, and fundraising events!
What makes us so great? We offer:
10 Olympic quality trampolines, the only facility in the area to do so
A rope to swing into our foam pit, a double mini trampoline, rod floor, & other equipment to play or exercise with
Knowledgeable and outgoing instructors who enforce safety rules and take care of everything for a stress-free time
Group rates plus accommodation for large groups

Interested in learning more or booking with us? Give us a call at 508-980-1987 or email our Event Coordinator at sarah.cutroni@gmail.com