Come celebrate with us!
All parties will spend 30 minutes in each gym playing at activity stations and games.
Upstairs, your guests will have 30 minutes to enjoy any food, drinks and cake you would like to provide. If you are having food delivered, please make sure it arrives within the last half hour of your gym time in order to not lose time upstairs. Due to our rotating schedule, we cannot extend time upstairs for food.
Gigueres will provide tables and chairs in the party area upstairs. You will provide all paper goods (table cloths, utensils, plates, napkins etc.) and any table decorations you like.
Pick up your invitations at the front desk. Please make sure to have all guests fill out our party waiver before arriving. The link is available on our website.
Please feel free to call the office (508) 892-3797 with any questions you may have!
We will be keeping our parties to a maximum of 25 children at this time.
Our parties are for children 16 and under only.
All Parties are 90 minutes long, accommodate 25 children and are priced at $335 beginning May 1, 2023.
Presents will be packaged up for you to take home and opened there.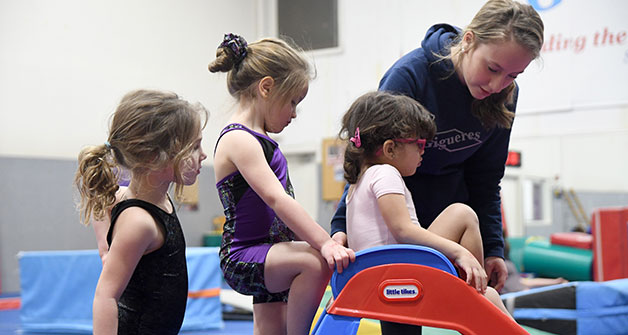 Gymnastics Party
This is our most popular. The 1 1/2 hour party starts with 1/2 hour in one gym, then goes to the second gym for 1/2 hour. The party finishes with 1/2 hour for any food and drinks you would like to provide. Open presents at home, we'll pack up for you! We'll even clean up the mess!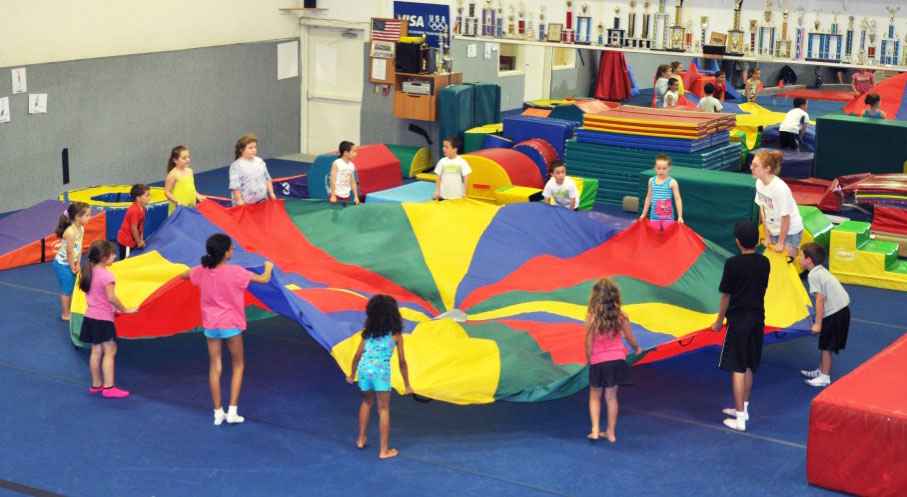 Swim Parties are Back!
Our swim parties are 90 minutes long, for a maximum of 25 children. The swim party starts at the outdoor pool offering 50 minutes of open swim, with 10 minutes to get out, dry off, and change clothes. The remaining 30 minutes allotted will be in our inside party area. Personal pool toys are allowed to be brought in with the exception of ride on floats and water shooters. Parents will need to bring any and all party supplies along with food. This makes your party unique! You can have just cake or cupcakes with a drink, or you can go all out with pizza and snacks as well. The choice is yours! Just make sure the food arrives on time for the last half hour of the party. We do not have a freezer available for any frozen items. You are allowed to bring a cooler of any sort to keep your item(s) cold. Please refrain from having any glass in our pool area. Additional time of thirty minutes is allowed for an additional price of $40 more for pool parties only. You may decorate as long as items can be put up and taken down in a timely manner due to our rotating gym and swim parties. Balloons and goody bags are also allowed, but highly encouraged to be passed out at the end of the party. Please also refrain from any confetti décor, including confetti filled balloons. Presents will be packaged up in contractor bags to be easily brought on the go to be opened elsewhere. Invitations can be picked up at the desk by request. Please contact the office at tel:508-892-3797.