Dear Dragon Gate Families,
We hope this message finds you in great spirits and filled with enthusiasm for what lies ahead. At Dragon Gate, we are dedicated to continually enhancing your martial arts journey, and we have some exciting news to share! Be sure to review the attached files.
Expanding Our Class Schedule: More Classes, More Opportunities
Starting on OCTOBER 1st, we are thrilled to introduce an expanded class schedule that will provide even more benefits for our Dragon Gate family. In addition to our existing Tuesday/Thursday/Saturday classes, we will now offer classes for Little Dragons, Kids beginners, and intermediates on Mondays and Fridays.
We understand the challenges that come with juggling work, transporting kids to various activities, and managing everyday responsibilities. This expansion is a direct response to your needs and requests. Attached to this email, you will find our brand-new 2024 schedule.
Why These Changes Are So Beneficial:
Greater Accessibility: Our goal is to make our martial arts programs more accessible to both new students and our beloved existing members. With more class options, you'll find it easier to fit martial arts into your busy schedules.
Enhanced Learning: These changes are particularly aimed at parents. We have noticed that students who attend class only once a week face more significant challenges in their progress and become discouraged when their goals seem unattainable. We want to help avoid setting a precedent that quitting is the answer to avoiding failure. We care deeply about your child's success; we want to see them thrive, develop powerful focus and build the confidence to take on life's challenges. By offering classes on five days a week, we aim to provide ample opportunities for consistent practice and advancement toward achieving that coveted Black Sash.
Empowering Young Minds
At Dragon Gate, we've witnessed incredible transformations in our young students. Many of them have significantly improved their focus, self-confidence, and coordination through consistent training. We firmly believe that these changes are crucial for their personal growth and success, both inside and outside the academy.
Tuition Changes: Affordable Excellence
To support these exciting enhancements, there will be a slight tuition adjustment starting on November 1st, 2023. This increase aligns with our standard annual adjustment to maintain the high-quality services and ensure we have a dedicated team of instructors and student coaches to guide you through our improved schedule.
We've taken great care to keep the increase as modest as possible, considering the exceptional value you'll receive. When you look at the additional training time and opportunities now available, you'll find that this change represents a fantastic value proposition for your martial arts journey.
At Dragon Gate, our mission has always been to help every student thrive, meet their goals, and find success on their martial arts path. We believe that these changes will empower you, our cherished Dragon Gate family, to achieve even greater heights in your martial arts journey.
Thank you for being part of our incredible community. We look forward to seeing you on the mats and embracing this exciting new chapter together. If you have any questions or need further information, please don't hesitate to reach out to us.
Warm regards,
The Dragon Gate team
Dragongate KungFu Academy
Mission Statement
Dragon Gate Kungfu Academy will be the premier provider of professional martial arts training to adults and children in the central Massachusetts area. We will motivate every student, teacher, child and parent to continually strive to better themselves.
What is Dragon Gate?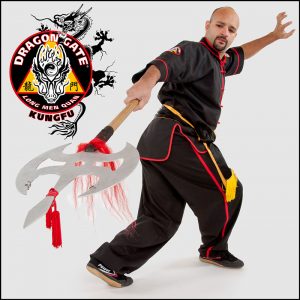 Dragon Gate Fist Kungfu is a style of Kung Fu that develops a very strong foundation in Chinese martial arts and concepts.
This style was created by shurfu Umar Arrastia and shurfu Eric L'Ecuyer and shurfu John Bradley, who have combined over 75 years of Chinese martial arts knowledge. Dragon Gate Fist Kungfu was developed from a core of Bai Long (White Dragon) Pai Family Kungfu Method. As well as an extensive background in various Chinese martial arts.
Dragon Gate Fist specifically consists of five traditional animals: Tiger, Mantis, Crane, Snake, Leopard, as well as Dragon Gate Fist Five Elements: Fire, Air, Earth, Water, and Metal. Students are also introduced to the technique and concepts of Internal Chinese martial arts such as Tai Ji Quan, Xing Yi, and Ba Gua Zhang. Dragon Gate also teaches the joint locking and ground fighting arts of Shuai Jiao and Chin Na.
At Dragon Gate, all students are encouraged to improve themselves as individuals. Constantly being challenged to set and reach their goals, our students make a habit of success. Each student is evaluated at their own level and based on his/her own strengths and weaknesses. Those that chose to compete consistently place high in open competition and are well respected as competitors and hopefully good human beings.
Our youth programs teach and constantly reinforce good qualities by focusing on a specific positive attribute at every rank level. These qualities are referred to in Chinese martial arts as WuDe (woo duh) or martial virtues. They are broken into two categories:
In understanding and teaching these concepts we hope to have a positive influence on the lives of our students whether they stay with us for a short while or a lifetime.
Ranks Structure & Evaluations
The White Sash is an "in class" promotion, and is considered the Introductory Rank. The White Sash is earned when an enrolled student has performed an in-class evaluation and has met the introductory requirements.
Upon Promotion to Fire Sash (children) and Orange Sash (adults) the student is no longer considered introductory, but a full-fledged student of Dragon Gate.
The children's curriculum is a 5 Element based system. It is designed to teach specific methods of movement that are critical to continued martial arts training.
The adult curriculum incorporates the 5 Element training as well as the 5 animal and internal training listed above.
The cost of Sashes and rank evaluations are:
White Sash is $25.00.
Orange to adult Brown Sash are $50.00
Black Sash is a certification in Chinese martial arts studies. This is a lengthy and difficult final examination. The cost for Black sash is $150.00.
General School Rules
Bowing is a ritual sign of respect while entering and leaving, starting and ending. Entering and leaving school (guan) Beginning and ending martial arts activities, including class, drills, sparring As an acknowledgment of respect for your instructors and fellow students Students should not horseplay or speak in an uncontrolled or disrespectful manner. All students should be in proper, clean and tidy uniform when in class. No outside shoes should be worn in the training hall (guan). Students should maintain good hygiene; unclean odors from body or uniform will not be tolerated. Do not attend class sick with cold or flu. Show respect for the training hall; help keep it clean. Work hard, but avoid dangerous overexertion. Never use excessive force in sparring or drills. Observe restraint and control techniques and do not injure a fellow student. Your teachers must be shown the utmost respect; address instructors as Sir or as their Title (Assistant Instructor, Instructor, Professor, etc). Do not point the soles of your feet toward him or show other forms of disrespect. Students must always conduct themselves with dignity and in a manner that will bring honor and respect to themselves, their teacher, the school, and the art. Students are responsible to enroll in their class programs on time. Your teachers should not have to remind you.
Local Kungfu Instructors Honored by World Karate Union Hall of Fame
On Saturday June 28th, two local martial arts instructors, shurfu (Instructor) Umar Arrastia, 35 and shurfu Eric L'Ecuyer, 37, were inducted into the World Karate Union Hall of Fame under the Instructors of the Year category. The inductees are two of the three founders of Dragon Gate Kungfu Academy (the third founder being shurfu John Bradley), located at Giguere's in Cherry Valley, MA, where they teach Kungfu, Tai Chi, Grappling arts, and Chinese weapons. shurfu Umar and shurfu Eric have been studying martial arts for twenty-seven years, and hold black level ranks in Kenpo Karate, Tae Kwon Do, White Dragon Kungfu, Heavenly Dragon Kungfu, and Tai Chi. They have been teaching on their own since 1993, and are long-standing members of the local community, having operated schools with shurfu John in Southbridge and Worcester, prior to moving the school to its current location at Giguere's.
Dragon Gate Kungfu Academy is renowned both for its youth-focused programs as well as a strong offering of adult programs. The youth programs concentrate on self-discovery and developing in youths a strong sense of personal growth. In addition to the traditional martial arts programs, other youth programs include the Scholar Program and the Kid Power Program, reinforcing the importance of academic excellence, and focusing on child-safety, including bully-busting and anti-abduction. The youth programs developed at Dragon Gate are perfectly suited for the youth-focused, family-friendly facility at Giguere's. The adult programs range from beginner to advanced experience, and include Kungfu, Tai Chi, weapons, and grappling, among others. Ultimately, all Dragon Gate programs are designed with respect, responsibility, and safety as primary objectives.